Skip Navigation
Website Accessibility
Your Flexible Block-of-the-Month Headquarters!

+1 785-243-4044
View Cart

Email: fabricessentials@aol.com
American Mandala Quilt Kit
Finished Size: 103" x 103"
King Size: 113" x 113"

We are pleased to present American Mandala ("mahn-DAH-la")!

Kit Includes:
* Full color pattern
* 12 laser-cut block kits
* All backround fabrics, borders and binding

Pre-cut blocks make sewing a snap!

| | | |
| --- | --- | --- |
| | | The quilt is made with a set of 12 Patchwork Party pre-cut block kits. |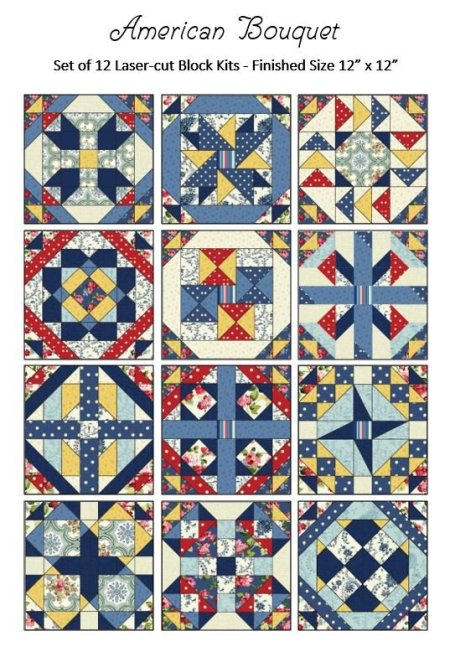 American Mandala is the "forgiving" quilt!

| | | |
| --- | --- | --- |
| | | The beauty of the American Mandala design is that yellow coping strips are added to each block. If your blocks are not perfect, or if they look great but don't all measure the same, the yellow coping strips come to the rescue. Simply add these strips to each block, and then cut each block to the same size! This sure makes life simpler! |

Center Medallion!
| | | |
| --- | --- | --- |
| | | The center medallion design was inspired by the various motifs in the 12 blocks, with a few design twists added in. The yellow frame in the medallion center uses the same philosophy...make the block bigger and cut it down to size! You will be surprised at how quickly this quilt can be made, and it will be square because you are squaring up as you go! |

Finishing Kit Details

| | | |
| --- | --- | --- |
| | | In the American Mandala kits, your borders will be cut Length of Fabric (LOF) so there are no seams in the middle of these beautiful outer borders! |

Very Helpful Rulers for this Project
The Patchwork Party Blocks are 12" finished, with a subdivision of 7. This would not be possible without laser-cut blocks! In order to create the center medallion with measurements as close as possible to the pieces in the 12 blocks, we used sub-units of 1 3/4" (or 2 1/4" unfinished). These Studio 180 rulers are specifically designed for these odd size measurements (maybe they aren't so odd if there's a ruler for it)! In any case, they are indispensaible! P.S. If your budget allows for only one ruler, pick the Tucker Trimmer II.

Tucker Trimmer II
for Trimming and Squaring UP
You will be using 1 3/4",
2 1/4", 3 1/2", 5 1/4" measurements


Wing Clipper II


for Flying Geese




You will be making Flying Geese




and then trimming down to




1 3/4" x 3 1/2" for perfect geese!

Large Square Up Ruler
Your Choice


You will need to be able to square up




blocks and coping strips to 16" unfinished.




One of the ways to do this is with a large ruler.

Easy to follow pattern!
The full-color pattern contains cutting diagrams, how-to pictures, and trim down measurements for each step, making it easy to follow along.


Suggested Backing
This 108" Wide Backing MASQB100-E is a great backing choice. The Queen size requires 3 1/4 yards. King size will require a pieced back and requires 4 yards.
What is a Mandala?
American Mandala is our interpretation of a Mandala - American style!

Mandala - A graphic and often symbolic pattern usually in the form of a circle divided into four separate sections or bearing a multiple projection of an image. Mandalas represent wholeness, the universe, and the four directions. Gazing at a mandala provides a way to focus and meditate and reflect upon life. Mandalas are used in the religious artwork of many different cultures including Tibetan Buddhist and Navajo sand paintings, Celtic Crosses, and rose windows in Christian Churches and Cathedrals.