Finished Size: With Fabric Essentials, You can make this quilt up to 113" x 113"
P.S. You can make the outer borders smaller if you would like a smaller quilt.

Featuring Robert Kaufman Charlotte c.1860 Fabrics!
Here are a few of the featured fabrics used in this quilt.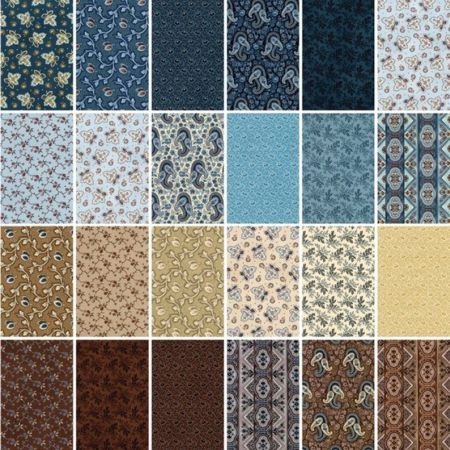 Two-Part Reservation Process:

Part 1 - Sign-up Online or over the phone. If you order online, please note that your payment details are encrypted and we cannot see your credit card information. Orders will come in as "pending" and we will then process your payment, generally within 24 hours. Your reservation pays for your final kit.

Part 2 - Call us a at 785-243-4044. We need to confirm your shipping address, phone, and email address. We'll also need your credit card details for your monthly billing.

Quilt Center Closeup



Program Highlights

Charlotte's Medallion is a Fabric Essentials Flexible BOM Program! Like all our Flexible BOM programs, we will cut complete kits in advance, so you can take as many blocks as you want at one time. Our programs include ample fabric for your project and our famous cutting diagrams so you can SEE how you are supposed to cut the fabric. Coordinating backing is included with this program.

Your 11-Month program includes:
* Color pattern with amazing illustrations economical cutting directions! The pattern has instructions for traditional cutting as well as the sizes to cut when using modern tools such as Deb Tucker rulers (which are cut larger and trimmed down to size).
* All original Robert Kaufman fabrics for the top, including binding ~ no substitutions!
* Ample fabric in case of mistakes
* Extra fabric to cut seamless outer borders! We don't believe in seams in beautiful outer borders, so we've provided extra to avoid this!
* Coordinating backing - 10 1/2 Yds - we provide an extra 6" all the way around
* $45.99 non-refundable reservation fee (this pays for your final kit)
* 10 additional months @ $45.99
* Complete kit, including backing $505.89
Note: We offer FREE Shipping on Complete Kits to any US address!

Backing:
We'll need your 1st, 2nd and 3rd choices. 45" backing will be cut into three equal pieces of 3 Yards 15" each (123" per strip), for a total of 10 1/4 yards.


Rulers Used in This Project:

Flying Geese Rulers - We recommend The Wing Clipper I, but if you already have another ruler that makes four geese at one time, that should work.

Square in a Square Rulers - You'll need a ruler to make a square in a square. If you don't have one, click to order.
V Block or Tri-Recs Rulers - If you have one of these rulers, you'll be good to go. Or, click on the ruler to order it.