Finished Size: 101" x 101"

NOTE: The background color is Marshmallow. We created double-pointed Dresdens for this quilt, although you could do a traditional center circle as shown in the computer drawing above.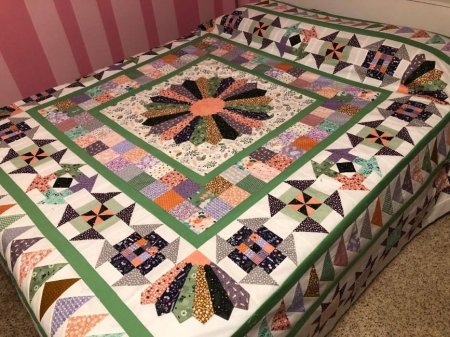 Featuring Andover Cathy Nordstrom Forest Talk Fabrics!
Here are a few of the featured fabrics used in this quilt.


Choose a Complete Kit or Flexible Block-of-the-Month Program!
This project includes the pattern, a Boo-Boo bundle, and all fabrics for the top, including coordinating backing and binding.

After you order your reservation fee, we'll call you to find out whether you want the complete set of kits or a traditional block-of-the-month program. We cut entire kits in advance, which means we are very flexible in how you want your program to work. Choose 1, 2, 3, blocks per month or even the entire kit! If you choose to take the complete set of kits, we'll pay the shipping to any US destination!

Please note that if you choose the Complete Kit option, you will receive the kit cut as a BOM project. We mention this because some stores just cut hunks of fabric. With Fabric Essentials, you will receive all the goodies you have come to expect with our programs - a Boo-Boo Bundle of extra fabric, exclusive cutting diagrams, backing and binding! P.S. We just found out that many stores do not include binding in their BOM programs. It pays to ask questions so you know exactly what you are getting!

Note: We cut all kits in advance - this means that your fabrics will be from the same shipment. When you sign up for our BOM programs, we put all your kits in a bag with your name on it. We cut your backing in advance as well. You are guaranteed to get all your kits! Less risk for you and no worries!


Quilt Center Closeup

We used double-pointed dresdens for Forest Talk Medallion. These are created using the large 15 degree ruler shown below and are sewn entirely by machine! The dresden is positioned over the center fabric. If you prefer, you can make traditional one-point dresdens and them put a circle in the center over the dresdens.




Quilting Details
Ann Houtchens of Frontier Quilting did a marvelous job quilting Forest Talk Medallion. Here are a few closeups of the quilting:


Program Highlights

Forest Talk Medallion is a Fabric Essentials exclusive program! Like all our Flexible BOM programs, we will cut complete kits in advance, so you can take as many blocks as you want at one time. Our programs include ample fabric for your project and our famous cutting diagrams so you can SEE how you are supposed to cut the fabric. Coordinating backing is included with this program.

Your program includes:
* Fabric Essentials color pattern
* All fabrics for the top, including binding
* Cutting diagrams
* Coordinating backing - we provide an extra 6" all the way around
* $37.99 non-refundable reservation fee (this pays for your final kit)
* 12 additional months @ $37.99
* Complete kit, including backing $493.87

Rulers Used in This Project:
The Wing Clipper I, Wing Clipper II, and the large Creative Grids 15 Degree Triangle rulers are used for this project.

Here's a Video that shows how the 15 Degree ruler is used.