Finished Size: Queen - 96" x 96"
Finished Size: King - 112" x 112"

13-Month Program Starts November or December, 2022 (depends on when fabric arrives).

The Lady Liberty Quilt is not your traditional sampler quilt!

It is a celestial masterpiece in red, white and blue batiks (sample is made with Island Batik fabrics).

Each month there is a new block to make and instead of making one you will make several of the same block. The blocks in this quilt are all created with straight line piecing.

This quilt can be made by a confident beginner.

The pattern suggests using The Goddess Tool to quickly and easily create corner cut-aways, half square triangles, tall triangles and half tall triangles.

(Click on the Image of The Goddess Tool below to go directly to the purchase page for The Goddess Tool)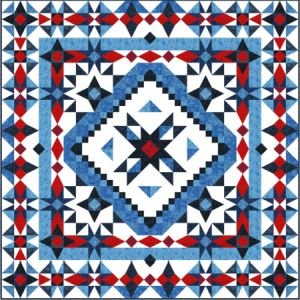 Program Highlights - 96" x 96":
* Pattern with Full-Color fabric guide
* Fabric Essentials Exclusive cutting diagrams (priceless!)
* Island Batik & Hoffman Batik fabrics for the top, borders, and binding
* Boo-Boo Bundle - extra fabric of the 10 fabrics used in the blocks
* 3 yards Coordinating 108" Backing (blue or red batik, or blue or red grunge)
* $37.99 Non-refundable reservation fee (this pays for your final kit!)
* 12 Additional Months @$37.99
* Complete Kit, including backing $493.87



Program Highlights - 112" x 112":
* This King Size quilt will look exactly like the original size but will have two additional borders.
* Pattern with Full-Color fabric guide
* Fabric Essentials Exclusive cutting diagrams (priceless!)
* Island Batik & Hoffman Batik fabrics for the top, borders, and binding
* Boo-Boo Bundle - extra fabric of the 10 fabrics used in the blocks
* 10 1/3 yards Coordinating 45" Backing (blue or red batik or blue or red grunge)
* $42.99 Non-refundable reservation fee (this pays for your final kit!)
* 12 Additional Months @$42.99
* Complete Kit, including backing $558.87

We are the only store offering a complete, flexible, program!

The Goddess Tool Does it All!
This tool is required for the Lady Liberty project.